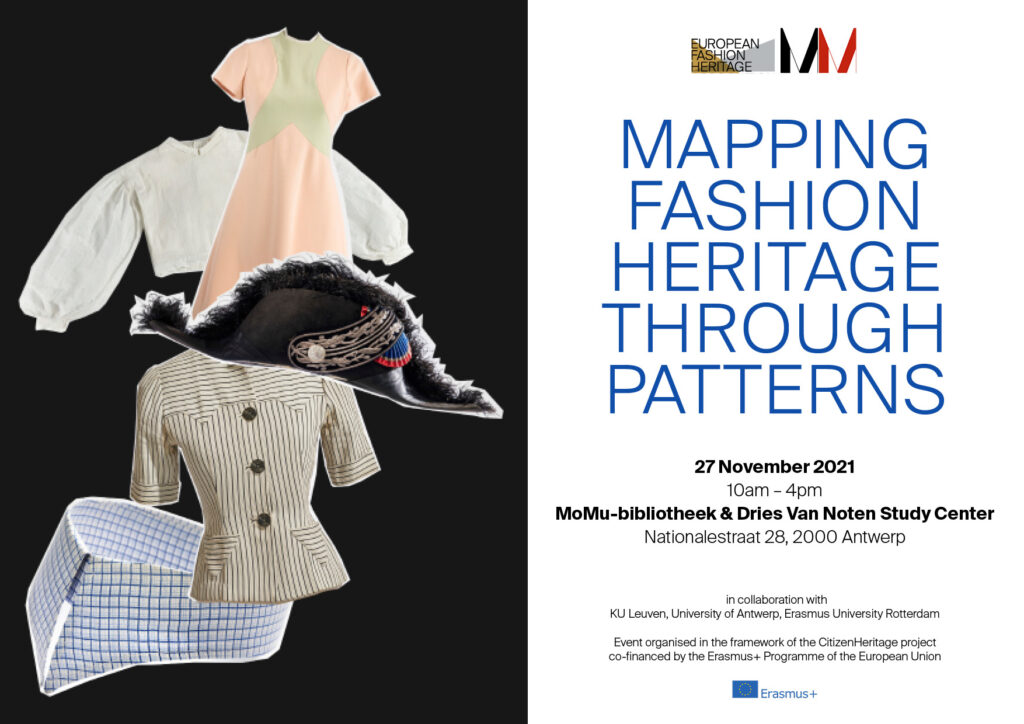 On 27 November 2021, at MoMu-bibliotheek & Dries Van Noten Study Center, Nationalestraat 28, 2000 Antwerp will take place Mapping Fashion Heritage Through Patterns, a workshop organised by EFHA – European Fashion Heritage Association and ModeMuseum Antwerp, in collaboration with KU Leuven, University of Antwerp and Erasmus University Rotterdam.
The event is an edit-a-thon – or, as we decided to call it, a Pattern-a-thon: an initiative aimed at uncovering and recovering patterns, engaging students, designers and researchers in enriching Wikipedia through creating patterns of fashion objects.
Patterns are the translation onto paper of the idea, adapted to fit the human body. When we wear a garment – any garment – we often forget the calculation and processes behind it from bidimensional paper copy to a three-dimensional object, something that speaks about the craftsmanship and knowledge necessary to get to the final result.
The workshop will be based on MoMu's Study Collection, recently remade available for direct consultation in the MoMu-bibliotheek & Dries Van Noten Study Center. It will start with a small workshop on pattern-making; then, the participants will create patterns of the objects in the fashion collection and donate them to Wikimedia Commons, for everybody to use and re-use. We all agree that patterns are a way to better understand clothes, their creators and their wearers. For those who look after and preserve objects related to costume and fashion, patterns are the key to unlocking the stories behind who designed and made what we now consider heritage.
Due to the nature of the event, places are limited.
To register, please contact Dieter Suls at dieter.suls@momu.be
Stay tuned to discover the result of such a fun and informative initiative.
---
Program
10.00-10.05 Welcome (Dieter Suls, MoMu)
10.05-10.10 10.05-10.10 Intro and agenda (Marco Rendina, EFHA)
10.10-10.20 10.10-10.20 CitizenHeritage project (Fred Truyen, KU Leuven)
10.20-10.30 Survey pre-event (Trilce Navarrete, EUR/Sofie Taes, KU Leuven)
10.30-11.00 Guidelines/tips for pattern making of historical objects (Natalie Ortega, University of Antwerp)
11.00-13.00 Pattern-a-thon (part 1)
13.00-14.00 Lunch break
14.00-15.50 Pattern-a-thon (part 2)
15.50-16.00 Survey post-event (Trilce Navarrete, EUR/Sofie Taes, KU Leuven)
16.00 Closing of the event (MoMu / EFHA)
Organized in collaboration with

MoMu – Fashion Museum Antwerp is reopening the doors to its historic Nationalestraat building from September 4, 2021 onwards. After three and a half years of extensive renovations and expansions, MoMu will now be able to permanently welcome visitors. The collection consists of clothing, accessories, and textiles, as well as more unexpected pieces such as tools, machines for textile production, patterns, and fashion show invitations.
MoMu's collection policy focuses on the work of Belgian designers and alumni of the Fashion Department of the Royal Academy of Fine Arts in Antwerp. Prominent names from the contemporary international fashion world are also represented in the collection. The collection grows every year through acquisitions, loans, and numerous donations, and now consists of over 35,000 pieces. This makes the MoMu collection the largest and most important collection of contemporary Belgian fashion in the world. 
In addition to the fashion and costume collection, the museum also houses a vast library collection. The MoMu library is an academic library for historical and contemporary fashion, textiles, and ethnic costume. With over 15,000 books, an archive full of valuable reference works, hundreds of contemporary and historical magazines, and a fast-growing digital database of images, the MoMu library is one of the top in its field worldwide.
Website: https://www.momu.be/